Release Date: April 5, 2012 (Select Theaters April 6, 2012 (VOD)
Rating: NR
Running Time: 1 hour 34 minutes
Have you ever imagined a place where Vulcans and vampires get along? Where wizards and wookies can be themselves? Welcome to Comic-Con San Diego. What started as a fringe comic book convention for 500 fans has grown into the pop culture event of the year that influences every form of entertainment, now attended by over 140,000 strong.
COMIC-CON EPISODE IV: A FAN'S HOPE- a film by Morgan Spurlock explores this amazing cultural phenomenon by following the lives of five attendees as they descend upon the ultimate geek mecca at San Diego Comic-Con 2010:
Eric, an aspiring illustrator, is hoping to impress publishers and land a job;
Holly, costume and creature designer, hopes her creations will win the big prize; Chuck, a long-time comic book dealer, is looking for a big sale to pay off his debts; Skip, longtime amateur illustrator wants to be discovered at this year's event; James, a young fan, hopes his girlfriend will accept a dramatic proposal. One on one interviews with Comic-Con veterans who have turned their passions into professions include Stan Lee, Joss Whedon, Frank Miller, Kevin Smith, Matt Groening, Seth Rogen, Eli Roth and others are shared throughout the film along with up close and up front coverage of all the panels, parades, photos, costumes, crowds and camaraderie that make up one of the largest fan gatherings in the U.S.
Presented by Stan Lee and Joss Whedon, COMIC-CON EPISODE IV: A FAN'S HOPE is directed by Morgan Spurlock; produced by Spurlock, Jeremy Chilnick, Matthew Galkin, Harry Knowles and Thomas Tull; and written by Spurlock and Chilnick.
"When people say the geeks have inherited the earth, I tend to say 'Stop calling me a geek…and how much of the earth do I get?" – Joss Whedon
Ever since it was announced that a Comic-Con documentary would indeed (and finally) be made, I have been counting down until the moment I would be able to see it. Now that I have seen it, I can tell you that my fellow Comic Con annual attendees will be very pleased with what Morgan Spurlock, Stan Lee, Joss Whedon, and their crew have put together from the 2010 San Diego Comic Con. Having sat in Hall H essentially all day the day that James Darling proposed to his girlfriend, it was especially exciting to see what led up to that moment. And having been so fascinated by Masquerade, it was such a delight to finally dive inside this world by following Holly Conrad who has such a bright future ahead of her in costume design.
"When a woman tells you to grow up that's God's way of telling you to get a new woman. Especially if she says to get rid of your comics. That's a load of crap. There's 3 billion women on the planet and not a lot of great comics so it's an easy choice." – Chuck Rozanski
Who I connected to the most however were the two artists the doc follows as they try to break into the comic book industry. My dad was that person once. And I later remember as a child, going to cons up and down the East Coast with my father, as well as sitting by his side in Artist Alley. It wasn't until 2005 when I went to San Diego Comic Con for the first time since 97/98 that I even realized there was more to the con then Artist Alley and the exhibit floor. There's a whole world to discover… well, worlds really and Morgan Spurlock did a great job capturing that fact, that every attendee's comic con experience is a unique one.
"If I go back in time and tell the 11 year old me 'One day not only do you go to Comic Con, you go to Comic Con every year, so much so that you get greeted by Stan Lee when you show up.' And the 11 year old me would be like, 'How did we get so fat?" – Kevin Smith
We don't just follow a handful of attendees here. Footage from the first convention in 1970 opens up the documentary and sets the tone beautifully to what we're about to see. It also must be pointed out that the music throughout the documentary is epic. But aside from the geeks we are introduced to, the geeks we've known for years (Eli Roth, Frank Miller, Seth Rogen, Seth Green, Guillermo del Toro, Kevin Smith, Robert Kirkman, etc…) are interviewed as they share what Comic Con means to them. What took me aback was the lack of Morgan Spurlock's presence in front of the camera. For those who follow Morgan Spurlock, you'll be disappointed to see that Spurlcok stays behind the camera… but you'll find yourself not as bummed as you thought in the end because it works. This is a story about the people of Comic Con, it's not an experiment.
While a different undertaking, Spurlock does this experience justice. Everybody has a goal when they go to Comic Con. Whether it's to be in the first row of a panel, get an autograph, get a collectible, scare the crap out of people during the zombie walk, break into the industry, etc… and while I would not have minded an extra 20 minutes or so to get to see more pieces of the con acknowledged, we've got the DVD full of bonus footage to anticipate. Here to talk about the DVD and more about this love letter to the fans is director, Morgan Spurlock: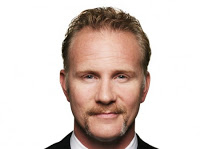 Biggest Challenge Shooting at San Diego Comic Con:
Morgan Spurlock: I think the biggest challenge for us was making sure we covered as much of the con as we could. So much happens over the 4-5 days, there's a lot to take in. We had a massive crew of about 150 people, 15 full time camera men, 10 producers that at any given moment could also start shooting a B camera. Then it was just about putting together a schedule where we bounced around to capture as much as what we consider to be the true essence of Comic Con as we could.
On Casting:
Morgan Spurlock: We put out a casting call through comic book shops, Comic-Con newsletters, Ain't It Cool News, and we got bombarded with about 2,000 submissions in total. Holly Conrad was one of the first people that we agreed to put in the movie. We (Joss Whedon and Stan Lee) all thought that she best represented a fan who let their passion drive their desire to find a place in this business. She represents a real heart and soul of what comic con is. Somebody like Holly who's going there to compete in the masquerade, it's her calling card to Hollywood and if I doesn't make it this time, I don't know what I'm going to do… that's a great story. Skip Harvey and Eric Henson who are going there to show their portfolios to break into the industry for the first time, those are great stories. James Darling and Se Young Kang who fell in love because of comic con, they are real stories that represent the heart of what it means to be a geek. It's not just having a passion for collecting. The biggest goal for me was to make sure we found characters that humanized the experience.
On the Lost Footage:
Morgan Spurlock: There's people we talked to on Artist Alley, there are extended interviews with the people that we talked to on sight… we shot 650 hours and dwindled that down to the DVD that is going to be released. We'll probably release an extended version on Blu-ray and DVD around Comic Con, at least that is the hope. We interviewed 74 people on sight and people said such wonderful things about being a fan, what Comic-Con means, and growing up in this world where being a geek is normal and accepted. We have plenty of footage that we hope to release soon.
The Hollywood Controversy:
Morgan Spurlock: There is so much press about how Hollywood has ruined Comic-Con and taken over Comic-Con. They haven't taken over Comic-Con. Anybody who's been knows that this is just not true. There's 6,000 people in Hall H but there are still 144,000 that aren't even in there. I think they dominate the media and the press, especially when Angelina Jolie who is one of the biggest stars in the world, comes. That's a much "better" story than Holly Conrad Makes Her Costume & Makes a Contest. What we're trying to do is tell the real story.
Is there anything that still surprises you about Comic Con?
Morgan Spurlock: I never thought of Comic Con as a job fair. The fact that people go there to show their creative talents in the hopes of breaking in, I was blown away by that. I never thought of it as a place to get your foot in the door.
Holly Conrad: When I first started going to Comic Con about eight years ago, I immediately thought that this was an opportunity because that was where the people that did what we wanted to do were going to show off their professional films and props. I remember going there and hoping I would run into people and I did. It was just a natural occurrence to try and get their attention in any way that I could. Even after the Comic Con shown in the film, it was still up in the air. I ended up moving to Los Angeles which is much more awesome. I get freelance jobs and do other things. It's off and on but it is steadily more awesome.
Is there time to sit back and relax at the con with all of the preparation for Masquerade?
Holly Conrad: What's really funny about that is that I have been to quite a few panels but what I really look forward to is wearing costumes on the floor. I think that's the part that I love about the con most because you meet people in costume and it's such a social adventure. It really is the most relaxing and most fun for me.
What are you looking forward to most at this year's Comic Con?
Holly Conrad: I'm definitely excited for the release of the film and seeing how everyone reacts to it. I've been waiting for the past two years so I am really excited for everyone to enjoy it as much as I have.
Morgan Spurlock: We are working on some screenings for the film. In a perfect world, we'd get to screen the film in Hall H which would be the greatest thing… to show this movie of fans, by fans, for fans in Hall H and then bring out the cast afterwards on that stage would be an epic moment. So I'm hoping to pull that off.
What would you say are your biggest pet peeves about Comic Con and your greatest memory?
Morgan Spurlock: My biggest pet peeve, there's got to be a better way to get some better food. I look at LA and there are all of these great food trucks all around town and there's really no way to get better food around town? (laughs) And make it a little cheaper. As for my greatest moment, in 2009 I met Stan Lee and that meeting is what led to making this film.
Holly Conrad: There are a few pet peeves… there are so many people there that it is just a madhouse. Trying to get a hotel room is probably one of the worst nightmares ever. My first experience at Comic Con, I got to see some of the props from Hellboy and other movies that I was a fan of. It was cool experience.
Comic-Con Episode Four: A Fan's Hope hits select theaters April 5, 2012 and comes to Video On Demand April 6, 2012.
For my San Diego Comic Con Tips Guide, click here.