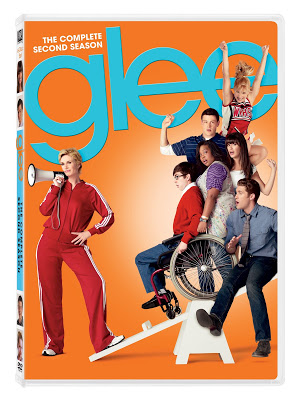 Release Date: September 13, 2011
Rating: Not Rated
Running Time: 1000 minutes
Bring home the complete second season of TV's most exhilarating series! Despite their loss at the Regionals, the kids in New Directions are more motivated than ever. And whether it's Will doing a sexy tango with a substitute teacher (Gwyneth Paltrow), Sue joining the Glee Club, or everyone catching Bieber fever, the excitement at William McKinley High School is keeping everyone on their toes. With more incredible musical numbers, hugely popular guest stars like John Stamos, Carol Burnett and Kristin Chenowith and lots of behind-the-scenes special features, "Glee Season 2" hits all the right notes.
The second season of Glee brought a few unexpected fireworks which took the show to a whole new level. Gwyneth Paltrow guest starring and the addition of Darren Criss in particular took Glee to new heights. Dare I say the Warblers were the better Glee club each time one of their numbers debuted. Then there are the returning guest stars who were a bright light in their own right as well as the Britney Spears cameo, Britney centric episode, Lady Gaga centric episode, Rocky Horror themed episode and the unforgettable holiday episodes (Christmas, Valentine's Day) to add to the unforgettable moments of the season. Perhaps the most stand out moments are the "Original Song" episode and season finale when the Glee club goes to New York since the cast and crew actually packed up to film in the city.
Getting to New York was a major accomplishment for everyone involved in New Directions as they have all come such a long way since season one. The character development and growth in season two is almost astounding if you look at the progress in season one. The focus was definitely shifted in season two to a point where it was not all about the music and a better balance was found between the music and the story as well as the characters. Thankfully, we did not have to endure outlandish stories such as Terri's fake pregnancy in season one, this season. There was plenty of space instead for one liners from Brittany and the rest of kids and staff at McKinley High.
As for songs, my top 10 list would most likely include these numbers: "Empire State of Mind," "I Want to Hold Your Hand," "Sing!," "Teenage Dream," "Forget You," "Singin' in the Rain/Umbrella," "Valerie," "Thriller/Heads Will Roll," "I Feel Pretty/Unpretty," and "I Love New York/New York, New York." The arrangements of these numbers in particular were so unique and the artists were so heartfelt in each and every tone. Glee really gave me a reason to be gleeful this year and I'm not the only one who can say that – just look at the numbers. Glee has been breaking records everywhere and for a good reason. The second half of Glee Season 2 I found to be most entertaining but it's all great entertainment that you would want in your TV collection, so be sure to pick up your copy of Season 2 today!
Bonus Features:
Glee Music Jukebox – The jukebox is back! Gleeks can "play all" of the musical numbers by disc or by the episode per disc and there is also the option to shuffle the musical numbers. So Gleeks will not have to worry about shelling the extra money for a stand alone DVD of all of the Glee Season 2 music.
Disc 2
The Making of the "Rocky Horror Glee Show" (6:48 minutes) – This is a fun feature which takes viewers on the set of Glee while the cast and crew film "Rocky Horror Glee Show." Hair, makeup, Chord Overstreet's costume, Adam Shankman's directing process, and Amber Riley's "Sweet Transvestite" number are points of discussion. Though a favorite may be the small portion of Jayma Mays' audition video viewers get to see. Mays actually performed a Rocky Horror number for her audition that she ended up singing in this episode. Who said this role wasn't for her? This is a fun feature that showcases the right cast members for the episode. You can tell that everyone was really excited about covering Rocky Horror so the energy is very high and will captivate Glee fans everywhere, no matter their relationship with Rocky Horror.
Also Appearing in this Feature:
Cast Members, Matthew Morrison, John Stamos, Chris Colfer, Amber Riley, Chord Overstreet, Cory Monteith
Choreographer, Zach Woodlee
Writer/ Executive Producer, Brad Falchuck
Exclusive Bonus Song – "Planet, Schmanet, Janet" (1:12 minutes) – This is an extra song from Rocky Horror sung by John Stamos for the fans to listen to. There's not much to see, except for the iconic Rocky Horror lips but the song, though short, is a fun one, so be sure to listen.
Disc 3
Getting Waxed with Jane Lynch (6:09 minutes) – In this feature, viewers finally get a peak at the process of getting waxed for Madame Tussauds! Our first visual is of Lynch getting measured for her soon to be wax. We also watch Lynch deciding on a pose, and the crew getting the hair color right for the figure. Marketing Director, Drew Potton and Sculptor, Dan Woodley talk about the process throughout this feature, especially when it is time to head to the UK where the wax figures are made in 3-4 months. Cut to the unveiling on Hollywood Blvd where it seems one of Lynch's Glee Cast mate and one of the creators came out to support the event. The wax figure process is quite an intriguing one, so for those interested in seeing what the celebrity's involvement is here, check out this feature.
The Wit of Brittany (2:21 minutes) – This feature is a compilation of Heather Morris' best lines as Brittany S. Pierce on Glee and is without a doubt the most hysterical special feature on this DVD collection. Sue's Quips (2:16 minutes) and Santana Slams (2:52 minutes) on Disc 6 are features of the same light and are just as delightful to watch.
Glee at Comic Con 2010 (14:54 minutes) – A portion of the Glee panel as well as Q&A from San Diego Comic Con 2010 is shared on the DVD. As someone who has been attending Comic Con for years and attended this panel in particular, I was hoping for a shot of the Ballroom 20 audience or a Flip video cam from one or more of the cast members as they navigated their way through Comic Con. Perhaps when the show makes it to Hall H that will happen. It was very exciting watching this feature since I was so focused on live tweeting during the panel and taking video that I really did not get a moment to really enjoy the moment that I was in. So this feature is a refreshing memory for me and hopefully will continue to expand if Glee continues to attend Comic Con.
Disc 6
Building Glee's Auditorium with Cory Monteith (5:32 minutes) – Cory Monteith takes viewers on a tour of the on set Mckinley High auditorium on Stage 16 in the Paramount Pictures Lot. The auditorium seats 500 people at capacity just like the auditorium in Long Beach, CA that it is based on. Set Decorator, Barbara Munich and Production Designer, Mark Hutman detail their job responsibilities and the process of building the auditorium while footage is shown at an accelerated speed of the auditorium being built on the lot. For those interested in an aspect of filming that is not often discussed, definitely check out this feature to get to know more about some of the unseen faces that are responsible for making the visuals look so good. Executive Producer, Dante DiLoreto also makes an appearance in this feature.
A Day in the Life of Brittany (5:46 minutes) – Heather Morris drives around the Paramount Set as Brittany S. Pierce as she takes viewers to her trailer, the makeup trailer, the crafts service room, dance studio, and recording studio. This a fun and unique look at a day in the life of Heather Morris while also giving us a bit of a tour as well. Must watch!
Appearing in this Feature:
Key Makeup Artist, Jen Greenberg
Choreographer, Zach Woodlee
Music Producer, Adam Anders
Shooting Glee in New York City (10:32 minutes) – In probably the most fulfilling moment for New Directions and even the cast and crew so far, Glee has come to New York! So this feature takes viewers behind the scenes of the cast and crew's experience filming in the city, shooting in Time Square, the Gershwin Theatre, Central Park, and Lincoln Center among other places and all in front of massive amount of fans that was overwhelming at times. For those who did not follow the paparazzi blogs while Glee was in the city, you'll find out here that Mayor, Michael Bloomberg welcomed the Glee cast and crew to the city just 6 hours after everyone made it over to the East Coast. This whole feature is a bittersweet moment because it's a rare time that the entire original cast of Glee will get this experience together as there will be some casting shake ups come season four and we have yet to find out if New Directions will make it to Nationals this season as well as if it will stay in New York. So this was definitely a fun feature, too bad it could not have been a bit longer, to see what the cast did on their little bit of time off while in the city or see more interaction with the fans (such as Mark while at Lincoln Center). Great feature though, definitely check it out Gleeks!
Also Appearing in this Feature:
Cast Members, Cory Monteith, Matthew Morrison, Heather Morrison, Dianna Agron, Lea Michele, Chris Colfer, Ashley Fink
Executive Producers, Dante DiLoreto and Brad Falchuck
Choreographer, Zach Woodlee
Guesting on Glee (8:07 minutes) – In this feature, viewers get to see guest starts, John Stamos, Gwyneth Paltrow, Cheyenne Jackson, Charice, Jonathan Groff, Kristin Chenoweth, Katie Couric, and Carol Burnett sit down for mini interviews on set to talk about their experience on the show. It's a fun feature that doesn't really give any insight into anything but is just a great point of interest to showcase.
Stevie Nicks Goes Glee (3:35 minutes) –
Cory Monteith, Matthew Morrison, Gwyneth Paltrow, and others talk about the incredible moment in which Stevie Nicks made a surprise visit to the set of Glee for the episode in which the song that she wrote, "Landslide" was featured. A portion of a speech she gave to the cast was shown and it was very heartfelt and inspirational and special. You can tell that what she said will never be forgotten by those who heard the speech. Her words held such incredible weight and really encouraged the actors never forget why this project in particular is so special. Nicks fan or not, you'll appreciate her enthusiasm and pure joy for all things Glee.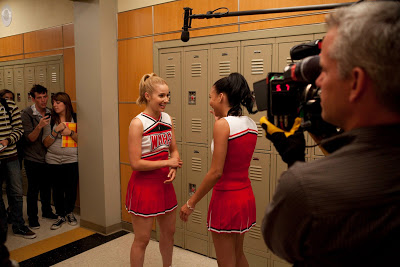 Own Glee The Complete Second Season on DVD today.