Attention Gleeks! There are just a few days left to enter for your chance to win Heather Morris's favorite Flirt Cosmetics and a trip to LA to meet and star in an online video with Heather Morris!
Video Entries for the Show Us How You Flirt Contest must be received by 11:59 PM on March 4, 2011.
If you're not a lucky winner, you can always get these new Flirt products exclusively at Kohls for a limited time!
There are New Limited Edition Flirty Eye Enhancing Palettes (.16 oz) for Green, Blue, Brown, and Hazel eyes! Each Palette contains 4 shades, including the base shade.
For example, the Blue Palette has 4 Apply shades; First, apply the Peachy Beige, then Taupe, Deep Plum, and lastly Coppery Bronze. I don't have blue eyes, but I can tell you that I love the shades available for brown eyes! Each Palette is available for $16.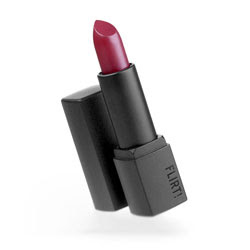 For those who want flirty lips, check out the Flirt High Wattahe Intense & Creamy LipColor (.13 oz, $12) which has such a rich color! I absolutely love how full and rich this LipColor is! I was given "23 Tootsie" which isn't picture above and doesn't quite fit my skin tone – not even in a bold kind of way, but I love mixing LipColors, so I won't have a problem fitting this into my beauty collection.
For those mascara addicts, the New Flirty "All That Lash" Volumizing Mascara is Flirt's boldest mascara yet. It is noticeably thick when you pull the big brush out of the tube and its fibers go in all directions which really helps give your eyes a fuller look. This mascara provides great separation and color (ever had blue or brown mascara?) and while I haven't worn it for 15 hours, that is how long this mascara apparently lasts. the New Flirty "All That Lash" Volumizing Mascara is available for $14.
Valentine's Day is over but that doesn't mean the romance is gone. So heat things up with these new Flirt Cosmetics and look just as good as Glee star, Heather Morris!
Don't forget to watch Glee, Tuesdays at 8/7c on Fox and for more Glee news, check out Gleek Squad Podcast!