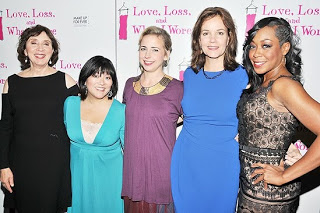 Photo Credit: Jenny Anderson
After speaking with Margaret Colin in a recent interview for Hollywood the Write Way, I was pleased to find out that Colin is currently starring in the Off Broadway production of Love, Loss, and What I Wore. After enjoying the production back in January and again in June during the Los Angeles run, I knew that I had to see the show with Colin.
I attended a Sunday matinee and saw Tichina Arnold, Margaret Colin, Alicia Goranson, Ann Harada, and Maria Tucci perform. As this show has a rotating cast, this cast will perform until December 5, 2010.
These women were such a delight to watch as each of them really brought something unique to their roles…which is the best part of seeing a show with a rotating cast. Certain stories that I had only seen as heartbreaking had a tint of hope or humor in it this time around. Certain characters that I may not have seen as having too much depth had so much more as Colin added accents to each of her characters, Goranson added attitude, Arnold added humor, Tucci added so much joy and innocence, and Harada was the mirror for the majority of the women in this audience.
As mentioned in an earlier review, timing and tone are everything for this show and the women did a fabulous job with such. Though there were two moments when lines were flustered, there were many more moments when the audience was filled with laughter and tears. The best moment of the reading just happened to be in the audience, when a few ladies went into an uproar about a diss to a certain fashion designer. The cast members briefly laughed before getting back into character. It really is quite an incredible experience to be in the audience of such an intimate show in such a small theater. The audience really is just as much a part of the story being told here as the ladies of the cast are.
Aside from the diss, the stories, The Dressing Room and The Closet had the audience in full agreement and in a bundle of laughter. One could hear a pin drop during The Bathrobe. Maria Tucci had everyone in stitches every time her main character got divorced and married over and over again. Every actress on stage really held their own and truly made their performances as personal as they could which I found it made their characters and monologues all the more moving.
The audience remained engrossed for the entire 90 minute run with no intermission and you will be too when seeing this cast before December 5, 2010.
Love, Loss, and What I Wore plays at The Westside Theatre on 407 W 43rd Street between 9th & 10th.