This summer, Pretty Little Liars has taken ABC Family by storm! A lot has been revealed but this is only the beginning, especially thanks to the recent full season pick up! There's one character in particular I was very intrigued by, so of course I went to the source! I talked to Pretty Little Liars star, Shay Mitchell about Emily's love life, family life, and more. Check it out.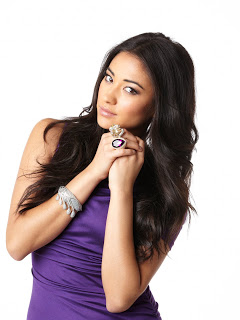 Photo Credit: John Russo
How did you find out about the Teen Choice nomination Pretty Little Liars received?
I found out via Twitter! I got a tweet saying something along the lines of "Congratulations for being nominated" and I was thinking, "What?!" I've watched the show every single year, so I am still in shock about it. It's pretty cool.
Emily is a loyal friend but she seemed very vulnerable when the photos surfaced. So would you say her vulnerability is overall more of a strength or weakness?
I think she's uncomfortable about people finding out only because she doesn't want them labeling her one way or the other. She is still coming to terms with her sexuality and she is not putting herself in one category or another. She doesn't want anyone else to do that for her. So in that way I don't think it is a weakness. She has strength because she is going about her feelings now. She just doesn't want the news coming out the wrong way. She wants to explain it to her family and friends first.
Would you consider yourself a good liar or do you think you are good at holding up certain appearances without having to lie?
I would say the second. I am not a very good liar and anybody that knows me can tell right away when I'm lying. Lying doesn't get me very far. (laughs)
Is there anything specific in the books that you are really excited about coming to the small screen?
Yeah. Every time there is a party in the books, it sounds so much fun. It is pretty elaborate the stuff that is described and I think Justin Timberlake appeared at one of the parties. We got to film homecoming, though Justin wasn't there (laughs) but it was very fun. I am also really curious to see how they play up Emily's relationship with her parents. That's what I am really interested in.
That's interesting that you bring that up because we have started to see the dynamic between Emily and her mother but what about Emily and her father?
Emily's dad is out of the picture right now only because he is away for a little bit. I can't say too much about that (laughs) but I will talk about Emily and her mom. Her mom is the good at home mom who is conservative and proper. She wants her daughter to be brought up right. So it is a good relationship and yet Emily still doesn't feel like she can be totally comfortable in front of her mom.
So what has it been like working with your on set mom, Nia Peebles?
It's phenomenal. She is such an amazing person and she's so athletic too. She's pretty inspiring in more ways than just her acting career. It is very neat and I love the relationship that I've gotten to have with her.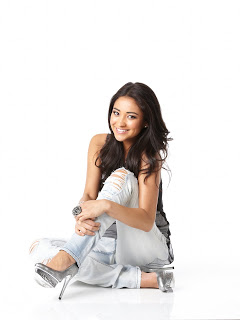 Photo Credit: John Russo
Have you had the opportunity to really sit down and talk to author, Sara Shepard?
Yeah, we all dinner with Sara Shepard when we were all in New York. I think it was in March or something, pre-Upfronts. It was so neat to meet her. It was pretty cool hearing her take on everything. She's awesome!
If you could choose one person from Degrassi The Next Generation to guest star on Pretty Little Liars, who would you pick?
Whoa that's tough! I would like to see Drake perform at one of our parties, as I am sitting next to Nina Dobrev. That would be cool! I can't choose one but to have both of them on would be amazing!
Are you a big reader and also, what are you reading right now?
I am, I am! I have been going through traveling books, language books, fiction, and non fiction books. Right now I am reading a book that my mom picked up for me. I've actually taken a little break from fiction as I've been going through a phase of reading spiritual books and also poetry. I kind of go through phases.
Were you always a big reader?
I've always been a big reader. Nancy Drew, Babysitter's Club, Sweet Valley High, I was always reading. I would get those weekly Scholastic things and then pick the books I wanted. I've been so busy shooting the show now, so I haven't been able to read as much as I have wanted to but I do have a big book collection.
Aside from Pretty Little Liars, what is your favorite ABC Family show?
It would have to be Greek…or Make It Or Break It since I used to do gymnastics.
Pretty Little Liars airs Tuesdays at 8/7 on ABC Family.