After the recent 12 year anniversary of the series finale of Step by Step, I wanted to catch up with one of the stars….
So I present you with my exclusive interview with actress, Christine Lakin! She has been incredibly busy this past year, so read below for all of the details!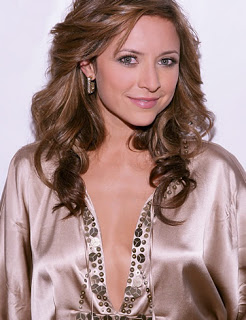 Can you tell us about your character in You Again coming out September 24th?
Sure! It's a romantic comedy and it's pretty much Mean Girls meets My Best Friend's Wedding. Kristen Bell's character finds out that her brother is marrying her nemesis in high school, played by Odette Yustman. I play Odette's best friend. We tormented Kristen's character in high school, so you'll see a lot of flashbacks but the whole movie takes place over 3 days. So Kristen's character is trying to figure out if Odette's character has really changed or if she is still a mean girl at heart.
Did you get to work a lot with Betty White and Jamie Lee Curtis?
Yeah, I did actually. Betty plays the Grandma in the movie. We are all in the scenes for the wedding, rehearsal dinner, etc. Jamie Lee plays Kristen's mom. A fun thing that I did in this movie, which was a little out of the norm for me…I assistant choreographed the movie. There are several scenes where there is dancing, a couple of cheer leading cheers that I came up with, and a family dance. Sigourney Weaver, Victor Garber, Betty White, and Jamie Lee Curtis are all in the scenes I choreographed. I actually worked with them one on one a couple of weeks before the movie to get everyone comfortable, looking good and feeling good. It was a lot of fun. Working with Sigourney Weaver and trying to show her my sexy moves was probably one of the highlights of my year. It was pretty cool.
Speaking of your arts background…what have rehearsals been like for Chips the Musical?
I am so tired, I can't even tell you but it has been so great! This is my ninth show with the Troubadour Theater Company. I have acted in shows, choreographed shows and this one is one of my favorites so far that I have performed in. What is so fun about this show is that it is a fresh take on spoofing the television show but it's all original music. It's a riot. It's an hour and a half. It is so much, I play about 5 different characters. So I am running around changing quite a lot. That's what I have been working on recently, the changing.
What are your dream Broadway roles?
You know, I have been itching to do a straight play again. But we have done 2-3 readings of Heathers The Musical. That has me most excited. The music is so incredible. I love the movie, Heathers and I think that this musical does by it really well. So I am crossing my fingers for that.
What is your favorite aspect of a comedy film?
Well you're on set everyday, the days are really long and tedious, there is a lot of technical aspects that go along with making a film of course…so it can kill the comedy if you don't have the right group around you. This was such a great group of actors. I have worked with Kristen Bell before. We've known each other a long time, she used to be my room mate. So getting to work with her again was fun. Everyone on set was really nice. I cannot say enough about Betty White. She is such a joy. She is one of the most professional, funniest, quickest actors – icons you could ever want to work with. She had everyone in stitches the whole time. She is the most energetic 89 year old I have ever met in my life and she is a real inspiration. When you have such a legend on stage, there is not a lot you can complain about because you just look like an idiot. If Betty White is doing it and has a smile on her face, there is really no room for anyone to say they are tired and don't feel like doing their job. So it kept the mood light and people really had a great time. Andy Fickman (Director/Producer) has such a great pulse on comedy. He knows how to direct women well and pull the best performances out of everyone.
Now how did the concept come up for the mockumentry web series, LOVIN LAKIN?
I was sitting on my back porch a little over a year ago with my friend Dave. Dave has been my friend for 10 years and it was his wife's birthday party. Dave has a documentary company and has all of this great equipment. So we were just sitting and talking when he said that if I ever had an idea, he thought it would be fun to work with me. So I told him that I had an idea and we started mowing it over. I was in this class "The Artist Way" which is a workbook for actors and artists by Julia Cameron. I came up with the concept during that time and we put the ideas out and then started to film it. We started telling people about it and were able to pitch it to a company who loved the concept. They gave us a nice budget so we could get an editor, color correct it, and put money into it to make it look like it did. I guess the concept kind of came about through me thinking, "What is something I can do that only I can do?" Only I can make fun of the real me. The character is a version of me but I take it to the extreme. I have been out of the business for years and am making a comeback but don't know anything about the business. I think I know everything, so I create a documentary that is meant to showcase the ins and outs of breaking into Hollywood. But it becomes very clear that I have no idea what I am doing since the business has changed so much. I am still using head shots from Step by Step!
What was so great though was that when I was filming You Again, I was also producing this series. So I talked to a couple of people and Jamie Lee Curtis ended up doing an episode. She is an amazing improv actress. Kristen Bell, Kristin Chenoweth, and Seth MacFarlane are all in future episodes. It was so much fun. Everyone had a great time poking fun at themselves.
That must have been awesome working with Broadway legend, Kristin Chenoweth.
Oh my gosh! She is so fun. She is the tiniest person I have ever met. I didn't think anyone was smaller than me! She is a constant light and so professional. We got along really well on the set of You Again. So I shared my idea about her doing an episode of the web series where I take a voice lesson from her. She was so generous and I felt so lucky. It was one of the coolest moments of my life.
What did you learn about producing and writing that you didn't know before starting this project?
I learned how hard it is and how little sleep you get. It was really rewarding to see something from concept to writing the series to just every step…it really became my baby. We had a very small crew and since Dave I have known each other so long and know each other so well, things ran really smoothly.
I was the creator, writer, producer, and the star and I didn't know just how much work all of that would be, especially in post production. It was difficult but it has been so rewarding. We started with the concept March 2009, we finished filming in November and finished editing in February. We have taken the last few months to screen and get representation and all of that.
It has been 12 years since the series finale of Step by Step but how does the show still impact you today?
You know, it was such a great experience for me as a kid. I really grew up with this family on television and it's weird saying that but I did. As a child, I had no perspective. I had been working in theatres and in commercials and when I got the series, my mom came with me to LA. I was thinking, "Oh cool, another adventure, this is fun." I was just having a great time. But as a kid I never really thought about it. Now I look back on it and see how special it was and how TV is so different now. For a family show, it still holds up and it is still sweet. There's very little television that is on now that is so family oriented like that.
I remember TGIF even before I was on Step by Step. That was the deal. Friday night, pizza, friends, sleepover, TGIF. So to be a part of that TV history is really cool. People will never let Step by Step go and I will always be that character no matter what I do in life and that's totally cool. People will come up to me and tell me what a big part of their childhood years the show was and that is so great. I have shows like that too, so I understand. I met Fred Savage a few years ago and I thought I would wet my pants. It's been a long time since The Wonder Years has been on but I get how it works (laughs).
Now if and when Step by Step the series releases on DVD, would you be open to doing commentary or anything else for the DVD special features?
Absolutely! I have so many vivid memories of episodes, hanging out in our school room, pranks, and stuff. It was a huge part of my life so yes, that would be so much fun. Hopefully the show makes it on DVD. I would love to have the series on DVD and show my future kids. I think my mom taped them all on VHS but it would be nice on DVD! So hopefully!
Now how did the deal to join Family Guy come together?
You know, people in LA tell me I do so much theatre but theatre is where I came from and it is what makes me happy. Having said that, I was doing a show at the Troubadour Theater Company last year and my friend knew Seth McFarlane. She brought him to a show and we all hung out after the show. He loved the show, thought I was great, and then a couple of weeks later I got a call to do a table read. Sometimes, if they don't have all of their actors available to do table reads and they need to hear the material ahead of time, they'll call in people they know to read it. So I came in a couple of times. I believe it ended up being an informal audition. I also came in to do a few one liners. One day when I was in New York, Seth called me to ask how I felt about joining the show as a newscaster. So I got spotted doing something I loved, continued to make a good impression, and ended up getting this role. It has been really lovely. It's a huge honor because it's a huge franchise and I love Family Guy. Every time I go in, I have a blast.
Valentine creator, Kevin Murphy has had great success with the hit Caprica. If you were approached, would you appear on Caprica or his new show, Hellcats?
I would love to do Caprica. It has such a cool concept. I am hoping I could come onto Hellcats too as like a bitchy Jane Lynch type of cheerleader coach from another team. I think that would be rad. That could be really fun. I am so happy for Kevin. He is one of the most talented writers and he is such a great friend. It is always great seeing great things happen to the people you love.
My last question is…what is the update on your blog?
Oh my god, my blog! My blog. My blog has died a slow death. With the web series and everything else I have been working on, I have let it fall to the waste side. I think I will revamp it once I know what's going on with the launch of Lovin Lakin. I need to put some posts up about Chips though too. We have had a documentary crew following us for the past 6 months now, so it will be interesting to see what they come up with! But I will get my blog going soon! Thanks for reminding me!
Lovin Lakin is coming soon!