Florida native, Ada-Nicole Sanger has been working this past year on this summer's much anticipated comedy, Grown-Ups starring Adam Sandler, Kevin James, Chris Rock, David Spade, and Rob Schneider. Ada-Nicole plays Donna Lamonsoff, Kevin James' onscreen daughter and below, Ada-Nicole talks about everything from working with Kevin James to possibly directing and also working in costume design. Check it out: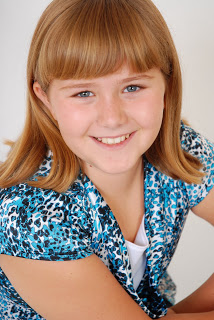 Can you share your experience of what it was like working with Kevin James in Grown-Ups?
Working with Kevin James in Grown Ups was amazing. His comedy is very physical. Although he acts like a big goof, he is really just a big teddy bear.
What was the most challenging scene to shoot for the film, Grown-Ups?
It was so challenging to shoot anything outdoors. The film is about 5 friends/ 4 families spending 4th of July weekend at a lake house, but it rained for over a month and a half.
What was the most exciting scene to shoot?
I was able to perform my own stunts in a few scenes which was so exciting! I don't want to give too much away but the scenes involve water and were a lot of fun to shoot.
Who would you say you learned from the most on set?
I learned the most from Adam Sandler and Rob Schneider, they'd always whisper things in my ear. They are both such an inspiration. I'd see Rob every morning in make-up, so we spent a lot of time together. I learned so much from everyone. The cast was filled with so many experienced actors and comedians, I learned something new everyday.
Compare Kevin James' character in Grown-Ups to your real life father.
Kevin James' character and my real dad are from the same generation, they like the same music, they are both goof balls and they have both taken major falls.
How do you see yourself all grown up?
I hope to be taller when I grow up, which is not likely from my genetics. But I still see myself acting and living my dream. Being happy and successful.
What are your upcoming projects?
I just did Nickelodeon BrainSurge which will be out later this year. For the rest, I'll have to check with "my people". (laughs)
What other genres are you interested in working in?
I'd love to do another comedy, but I definitely see myself working on dramas, musicals, sitcoms, or holiday projects.
What was the transition like from Florida to California?
South Florida and Southern California are very different. It was tough adjusting to the time change and lack of humidity. The busy streets and traffic are crazy in California. At home we can go 12 miles in 15 minutes, here it takes about an hour.
Aside from acting, are you interested in working in other areas of the entertainment industry (writing, directing, etc…)?
I haven't really thought about pursuing other areas of the entertainment industry. I have attended question and answer sessions with writers, producers, directors and casting, but right now I am focused on acting. Maybe later on I might try writing, directing or even costume design.
Grown-Ups hits theaters June 25, 2010.