White Collar Premiere Week continues as USA's brand new series premieres this Friday at 10/9c! Everyday this week, I have presented interviews with the cast and crew of White Collar, and today's interview is with Actress, Tiffani-Amber Thiessen.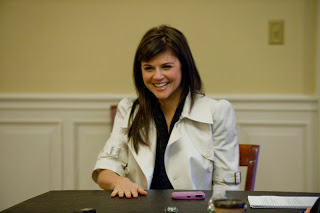 On Getting the Role:
When I first auditioned for it, they hadn't cast the role of Peter yet. So, they were just loosely looking at possible Elizabeths. And then I was put on what they call a short list, you know, put on the short list, you know. It's so funny. I've been doing this for 26 years. I can't tell you how many short lists I have been on. And nothing ever happens. But, you know, it's just part of being an actor.
So they said they were going to do the process of casting the role of Peter. So, they were going to wait and hold off on the wife, which makes sense. So, they finally cast the role of Peter with Tim DeKay, which I was ecstatic about because I have been a fan of Tim's for a very, very long time. And so I remember calling my agent going, "Okay. So, what's happening?"
He's like, "Well, they kind of wanted to go in a different direction." And they were literally testing girls five years younger than I was. And I was thinking, "Okay, this is interesting." I mean, Tim and I already have a little bit of an age difference, but you put another five years. And I go, "That seems strange."
I guess they went through a lot of different girls, a lot of young girls. And so they finally came back. I got a phone call a couple months later and they said, "We want you to do a chemistry read with Tim DeKay." And I was thinking, "Yes. It's back on!"
I went in. We had chemistry from day one. I went in, tested for it once. And there's a very funny story with USA that it takes USA a very long time to make a decision on somebody. And I think I broke the record because I got the call three hours later that I got the job.
On the Testing Process:
You walk into like a room like this—I'm not kidding you—with many of the executives and they're all staring at you. And it's super quiet. And they have a little video camera on you. And you have to do the scenes, and you have to make it as real as possible with all these people literally looking at you. It's very, very weird.
And then you know like there's a bunch of different girls behind you doing the exact same thing. But I went in and we nailed it. It was awesome. It was meant to be. You know you say things like that. And I truly do believe it.
On Relating to the Character:
I've been married almost four and a half years now. And it's a relationship that I know—you know, a lot of times on TV, and even movies, you see these relationships that don't work. It's always about the ones that don't work. And it's the drama and it's the this. It's nice to see a relationship on TV that does work, and they've been together for a long time. And they really do have each other's best interest at heart.
On No Love Triangle:
You've seen it so many times. You've seen it over and over, and I've played it over and over. So, yeah, I'm glad there's no love triangle. Believe me, I'm glad.
On Working in New York vs. LA:
Los Angeles is very, very different. But I've been coming to New York since I was young. I love New York City. I love that you guys have seasons, just to be able to put a coat on and a scarf. We don't get to do that in L.A.
But on the 'but' side of it, my family is in L.A. All of our families are in L.A. We didn't make the big, big move just yet. I think for first season, you just never know. But I have a sneaky suspicion this show's going to go for a while. I usually am not wrong. So, we'll see. And I've always wanted to be bi-coastal. So, I'm kind of getting that dream—that wish granted.
On the Funny or Die Video:
It was great fun to do. We all know what that was stemmed from. It was my way of kind of answering a lot of people's questions, not even just Fallon because I was getting, everywhere I was going, why I wasn't going on Fallon, and why I wasn't doing the reunion. And this was way before anybody knew we were doing People Magazine.
We all knew we were doing People Magazine. That was the reunion that we were doing, end of story, didn't need to do anymore than that. But I was still having to answer questions because it hadn't come out yet. So, we kind of approached Funny or Die, and they did it and they loved it. We sat down and collaborated the whole storyline and the script. And we literally shot it at my house. Everybody you see who's in it was my husband, my friends, my gardeners. I mean it was everybody that was around. It was awesome. We shot it all in one day. It was great.
I want Fallon to say something. He hasn't said a word. I was a little bit disappointed, I have to say. I was a little disappointed. So, we'll see. We'll see if he ever says anything. I don't know.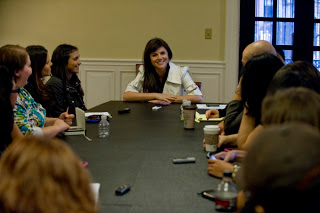 With event planning as your character's career, how does that work with Neal, because it seems like that's right up his alley?
We're actually just exactly halfway throughout the season. And there's been some times where you see what I do for a living kind of come in an episode. Definitely one episode you see it. It's going to be an ongoing process, I think, for them to kind of figure that out. The thing about it is, yes, the high profile people I might be working with could be an interest for Neal. You just never know.
They don't have a whole lot of your character working, doing event planning in the Pilot.
No, because at first, funny enough, I was supposed to be an accountant. [laugh] That's how it was written. And then what they ended up doing in the pilot is they never mentioned what I did for a living because I think they wanted to kind of explore me in the character. And so, actually, after we knew that the show was getting picked up, I sat down with Jeff Eastin, the creator, and I said, "I have an idea."
They didn't want her to be in an office. And we're shooting in New York City. It's like what better way to show even more of the City? I said, "She's an event planner." He said, "Oh, I like that." And secretly I've always wanted to be one. So, I was thinking, "Perfect."
Are you going to bring comedy to this role?
This show is definitely lighthearted. It's not a drama and it's not a comedy. It's right in between, which is definitely the kind of TV and movies that I like to watch. So, of course, you'll see a lot of that from me, from Matt, from Peter, and, of course, Willie, which is great because I really do love doing comedy a lot. It's definitely one of my favorites, so, yes.
Your major characters have been so different. I mean there was Kelly who was everybody's sweetheart. And there was Valerie who was nobody's sweetheart. And now you're playing this adult wonderful support. But is that something you purposely tried to not get caught in the stereotype, or–?
Yeah, I think you do no matter what because it's the business, you know. I think we all, as actors, fear that. I think there's always going to be a little bit of that no matter what. But I think, yes, when I read the script, I was automatically really into the script and the role.
Where do you see your character going, or where do you want your character to go over the course of the series?
You know, it's interesting. I'm not the star of the show. And to be totally honest with you, I'm very happy about that. I mean, I came on the show knowing that it was the two—it's the two guys. It's their show. And I and Willie are supporting characters. I've been a lead in a show for a long time and, honestly, didn't want the 17-hour days anymore.
So, for where I want to see the character going, it's kind of a—I can't say I want her becoming this huge piece of this show. I want her to still be supporting. She's this kind of light part of the show that I like. It's the home piece for Peter's character, which I like. I love the relationship that they have, Peter and Elizabeth. So, I think it's more of just about exploring that, and what 10 years of that relationship's going to be. Kids or whatever that means, I don't know.
Do you think she'll have any involvement kind of helping Neal with his whole missing girlfriend situation?
I think you might possibly see that, yeah. I think being I'm the girl on the show, I'm the female voice in that sense that you'll see—you know, you see Peter coming to me for that side as well as just another look at things. It's a common thing sometimes when you live in a career for so long that sometimes you don't think about things that other people see on the outside. So, you'll see a lot of that.
We know about your directing in Hung but would you be interested in directing an episode for White Collar?
Oh, absolutely! I wouldn't say no, absolutely not. I mean I would love to. First seasons are always the hardest to kind of get your feet wet with everybody that's on the show and stuff like that. So, I would love to. They know my interest. I would absolutely love to.
And, yes, Hung, I was actually supposed to shoot the end of this year. But now that I'm shooting this show, it's got pushed back.
Any interest on making an appearance on the new 90210?
Not at all. No. I watched the pilot, and it's very different. Also, I've always been someone to never look back. I've always been someone just in life in general, and that always stays the same when it comes to my career. I always like to move forward.
I played that character for a long time. I don't need to play that character again. It's retired. And I'm so glad. And I couldn't be more blessed and feel blessed to be on the show that I am now. And I love the people that I'm working with. I couldn't be more ecstatic about it. So, everything happens for a reason.
Tune into White Collar, premiering Friday, October 23 on USA Network.