The new series, The Vampire Diaries, premieres tonight on The CW at 8/7c and Actress, Cindy Busby, who appears in the Pilot took some time out to speak with Hollywood the Write Way about this new show, the Canadian hit show, Heartland, and more.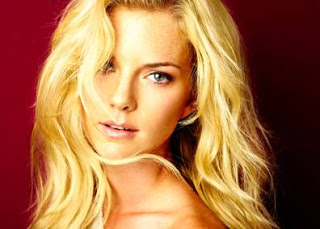 Photo credit: Ed Araquel
The Vampire Diaries
What is it about vampires that everyone loves so much?
I'm a huge vampire fan! I have been a vampire fan since I was a little kid so for me to be part of a vampire project is very exciting. I think vampires have always had an appeal because they have that sense of usefulness and sense of beauty that humans wish they could have forever. There's something sexy and appealing about them…minus the blood. I think vampires will always be popular.
Had you read The Vampire Diaries series prior to being cast?
I hadn't. A lot of my cousins had been reading them and they told me all about them.
Was the author, LJ Smith on set when the Pilot was shot?
No, the author was not on set but Kevin Williamson was and that was exciting since I'm a huge fan of his work. He seemed really pleased with my work and he was very hands on so it was great!
What was it like shooting the Pilot?
It was shot in Vancouver and the crew was really great! It was shot at night so there was shooting from about 6pm – 6am. It was a bit cold and drizzling at times. The script was amazing and I was in great hands and it was just such a great shoot!
What are you looking forward to for the show?
I think this will be the best new show this fall so I am very excited. There is a fresh young cast and it will be a very nice, romantic, and action driven story. It can attract both women and men so that is great!
What do you think about the comparisons to other vampire TV shows & films, like Twilight, etc…?
I definitely think The Vampire Diaries does have some correlation with the Twilight films which is why this is such a great time for the show to come out. There is such a fan base already. The fight between good ad evil and the love story is quite similar but there are still a lot of differences. I have never really seen True Blood but I hear that it is quite amazing.
Heartland
What can you tell me about the upcoming season of Heartland?
This season, there is definitely a lot of action but there is a lot more love. You see a lot more couples developing and the problems that arise when you have relationships…jealousy, marriage, pregnancy, and all of those things but it will still have the heart, the focus on the horses.
How will your character's relationships with the main characters evolve?
My character started off as a spoiled, mean girl. In the second season, she discovered why she had been acting the way that she did, which was partly because of her mother pushing her. In this season, she is establishing who she is in the world. She's not that mean girl or spoiled girl that everyone thinks she is. She will be working a regular job, so everyone will see her in a uniform…which will make everyone more comfortable with her as a human being and not just some girl who has it all. There's also a love relationship developing.
Can you talk about the relationship that is developing?
At the end of the second season, my mom pays Caleb Odell to go on the rodeo circuit and I didn't know that. The fact that he took the money made me angry since I definitely liked him. So now we are coming together but I am not making it easy for him. I kind of play hard to get but we've definitely grown from more than just friends.
What are your character's strengths & weaknesses?
One of her strengths is that she is driven. She knows what she wants and goes for it no matter what. It doesn't matter what she has to lose to get there. The bad aspect of her personality would be that she is a little too verbal. Sometimes what she says hurts other people's feelings. The main thing though is she has a good heart.
Upcoming Work
Tell me about what attracted you to the movie, Diary of a Wimpy Kid.
When I got the script, it was really, really funny! The comedy aspect really attracted me and I wanted to be part of it.
What are your upcoming projects?
Heartland shoots until December and other than that, I am continuing to audition and promote my upcoming projects so that is my main focus right now.
Heartland premieres on CBC Sunday, October 4, 2009 at 7pm (7:30pm NF).