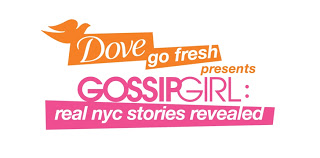 Just a short few hours ago, I attended the "Dove Fresh Presents… Gossip Girl: Real NYC Stories Revealed" event at the wonderful Gramercy Park Hotel Rooftop in NYC. The event aimed to preview the new series of the same title, that will soon air on Monday nights during Gossip Girl (The CW).
The series, introduced by Gossip Girl star, Jessica Szohr follows 4 real Upper East Side gossip worthy ladies who are on their way to making it to the top in their fields. From left to right, there is Lara, the Ivy League Graduate aka Blair, Dani, the It Girl aka Serena (the crowd cheers), Faythallegra, the filmmaker aka Vanessa, and Chrissie, the fashion designer aka Jenny.
Chrissie, Faythallegra, and Dani were in attendance for the event and I ended up getting to talk with both Chrissie and Faythallegra. I was given a booklet showcasing Chrissie's Sophomore Line and I found out that Faythallegra will soon be in pre production of her very first feature film this fall. Photos from the event are below. There were also these really good mini burgers that I wish I had taken a photo of. They were so good! Although a fellow blogger that I met, Nitrolicious has the photos of all of the food on her blog. I also met bloggers, A Novelista, Beauty Blogging Junkie, and Makeup Loves Me who can be seen somewhat in the third photo below.
As the event was hosted by Dove, a new product line was previewed for the Dove Fresh line. The photo below shows what product samples I walked away with for the night. "Burst" has a very strong nectarine and white ginger scent and I can honestly say that this is my favorite scent from the entire line. It definitely wakes up your senses, that is for sure! I have always been a fan of Dove. I grew up on using Dove products so I was more than thrilled to be able to bring home these new products and I cannot wait to use them!

I had a very good time at the event and it could not have happened without Victoria Taylor and Andrea Urioste both from RocketXL and Juli Freeman from Edelman, so thank you very much!