*Reviews May Contain Spoilers*
Desperate Housewives – Connect! Connect!
Juanita: We don't need lots of money.
Gabby: Hey, what did I say about that kind of language?
It was interesting to see more of Dave's back story, although I still do not like him anymore than I did before. Dave's plan to stay in Mike's house was clever but what is he planning to do? Bree having a small tiff with Alex was quite entertaining. Saying that she has control issues is an understatement. So glad to see that she made up with Alex in the end. Why do Susan and Edie always seem to find themselves isolated? Gosh I just love it!
I also just love Edie! As much as she lives it up, she is so incredibly smart and I just love when she tells people what they are afraid to admit or have not yet realized. After Edie's sob story, Susan's reaction was priceless. I had to rewind the DVR so I could see her reaction a few more times. I am not happy with Edie giving Dave another chance. Although Edie is doing the right thing for herself, it is not with the right person. Susan deciding not to move in with Jackson was the right choice! Good for her.
Lynette's plan to get Porter back was brilliant. Rotten, yes but a mother has got to do what a mother has got to do. Yay for Porter's case being thrown out! Another yay for Lynette and her mom coming to a resolution. Gabby trying to take care of her little devils was so funny and sad. This episode was very entertaining…. The writers of DH, the cast, and everyone part of DH never disappoint.
One Tree Hill – A Hand to Take Hold of the Scene
Jamie: Shhh, we put them down like an hour ago.
Peyton using the basketball to see how she will look when she is more pregnant was a great shot and I am glad that Lucas reassured her that she will look great on their wedding day, pregnant and all. Haley setting Lucas up with babysitting the kids was quite funny. I love Haley and Lucas scenes by the way. I love them.
Anyway, back to Peyton and Lucas…when they were babysitting, I was so excited to see the game Mouse Trap! Wow, I haven't played that in years. Remember the walkie talkies? Ahh memories. Anyway, I am pleased with how Brooke took the news of Peyton being pregnant with Lucas' child.
No matter how close those girls are, it is still a bit odd to know that Peyton is having a baby with Lucas and not Brooke with Lucas (it is odd vice versa, given all of their history). Brooke, please be careful with your new boy toy, please! I am not felling that. Seeing Brooke tell Millicent to get out after Millie told her she slept with Owen was great, and I liked the scene even better after seeing how forgiving Brooke was 2 seconds later. Owen is not worth a friendship and Millie truly is sorry, so I am glad that Brooke sees that.
The talk that Brooke gave Mouth was written perfectly, I loved it. Sam was not incredibly annoying as usual, she was pretty tolerable. I am still just so over her attitude and her persona. I would rather Mia become a regular than Sam by the way. Speaking of Mia, I love Mia and Chase together. OTH has a thing for karaoke and I love it, it never gets old. I enjoyed this episode more than I have enjoyed the past few.
90210 – Love Me or Leave Me
Harry: So I think we all have school today.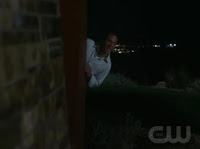 Silver mimicking Ethan & Annie was hilarious. Although Silver later overreacting after Dixon expected her to say "I love you too" was a bit much. Where do those two stand? It was wrong of Naomi to automatically assume that Adriana was using again. I just hope Naomi doesn't spill the beans to people before Adriana gets the chance. Naomi does not seem like a totally dependable friend, so we will see. She can talk the talk for only so long. I hope that Navid does not totally ignore Adriana now that they aren't together. I hope he can at least be a friend in her time of need. Only time will tell.
Annie just up and going to Palm Springs was not a smart idea, considering how strict her mom has been lately. Although I am glad that Ethan realized that and they did not go all the way. Harry and Debbie sneaking around the Palm Springs house to check on Annie was pretty funny. This episode made me yawn but I think I can hang in there until the end of the season. I don't love it but I won't leave it just yet.
Privileged – All About Tough Love
Megan: Now if you'll excuse me, I have to go to jail now.
Marco: Jail?
Megan: You heard me.
Marco: Damn. She's always got to one up me with the drama.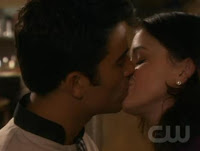 The way that Rose reacted to Zach outing Sage was very much more together than I thought so that is great of Rose that she kept her composure. Sage being on cloud 9 is so great to see. When Sage showed Rose Louis' reaction to the gift giving, that was such a comedic moment. I loved it. Their little argument in the kitchen about the gift was expected and it was great of Sage to try and find a way to relate to him later on.
Okay, so "I just showed you my kittens in a basket" was just about the funniest line in this entire episode. Hahaha. I can't get over it. I just want to say that Marco being so bitter about his relationship is very amusing. Regarding Lily in jail, I am glad that Megan went to her parents for help with Lily and I am very glad that her father decided to not bail Lily out. He is right, she needs to learn her lesson for once and for all.
The scene where Megan tells Lily that they are keeping her in jail was great, so touching. It took more than a lot of courage for Megan's mom to ask Will for help and even more if Will really did give her the money and she used it to skip town. Wow. I cannot wait to see next week's episode!
Ugly Betty – New Episode Airs Next Week
The Office – The Duel
Michael: Sometimes I'll start a sentence and I don't even know where it's going. I just hope that I find it along the way…like an improv conversation. Improvisation.
…
Meredith: I've had 2 men fight over me before. Usually it's over which one gets to hold the camcorder.
Michael running in the cold open and trying to race not only Oscar but a real car was the perfect intro to return from what felt like such a long hiatus. God I love Michael. I am glad that Michael is even showing his concern about Andy knowing the truth. I love his concern for people, it shows an almost charming side of him if that makes any sense. The fact that everyone in the office believes that Angela should be the one to tell Andy what is going on shows a lot about everyone's character so that was good to see.
I love Oscar's reaction after he asked Dwight where he had intercourse in the office. How hilarious was Michael when he asked Dwight "Is she crazy in bed?" and Dwight not only says yes, but says that Angela is flexible! Hahaha. I could not stop cracking up. To see how serious Michael is being about the situation….more serious than his actual work that he needs to do, is very interesting to see.
The moment that he told Andy about Dwight and Angela was the most nervous we have ever seen Michael! I can't believe Angela answered, "a little bit" to Andy asking if she slept with Dwight. What does "a little bit" mean and do you see the way that she acts with Andy? She is so vulnerable with him, it is a very interesting look at her character. Michael's philosophy was the most hilarious dialogue of the entire episode.
When Andy & Dwight are fighting in the office about how they will fight, Meredith's smile was so entertaining. Gosh I just love the facial expressions. I love how Andy says, "What a coincidence" right after he plans to fight with Dwight. Jim walking in between the two was quite funny too. The fight outside with Andy and Dwight was hard to watch. I a not sure if it is because it was so dramatic for an office episode or if I am so over the love triangle and would like to see this storyline wrap up. It grabbed me emotionally that is for sure. As dramatic as it was, I loved the comedic parts of Dwight saying his leg was falling asleep and Andy calling Jim "Tuna" even during a fight. Angela got what she deserved, no Andy or Dwight in the end. Is it just me, or was it funny when Andy said the wedding cake was shaped like a sailboat?
Going from such a dramatic scene to Michael grinning from ear to ear was perfect. The ending was perfect too, Dwight handing Jim his weapons like a kid cleaning up his toy room with a parent. Haha. I know this episode is mainly about Dwight, Angela, and Andy but aside from the "fight" scene in the parking lot, Michael carried this episode all the way. Also, you may have notice that at the top I added 2 quotes instead of the usual one because they were just so incredibly funny, I couldn't choose which one to post so I put them both up.
Au Revoir?
Lipstick Jungle – With last week's episode being the last episode that was shot for the show, it is hard to believe that the show will be coming back…even if Brooke says that it has not been cancelled. With no official announcement from NBC on the show's status and the weeks going by as fast as they are, it will only be a matter of time before the small fan base becomes an even smaller fan base – having been off the air for however long, and that will be mre than enough for it to not come back on the air. As much as I would like to see a full second season, it just does not look likely.
What I Am Watching:
Sunday
Extreme Makeover: Home Edition (ABC) 8pm
Desperate Housewives (ABC) 9pm
Monday
House (Fox) Premieres January 19th 8pm
Chuck (NBC) Returns February 2nd 8pm
Heroes (NBC) Returns February 2nd 9pm
One Tree Hill (The CW) 9pm
Samantha Who? (ABC) Returns January 26th 9:30pm
Tuesday
90210 (The CW) 8pm
Privileged (The CW) 9pm
Thursday
Ugly Betty (ABC) 8pm
The Office (NBC)
Friday
Terminator:SCC (Fox) Premieres February 13th 8pm
Ghost Whisperer (CBS) 8pm