TV Week In Review from Last Week
*Reviews May Contain Spoilers*
Desperate Housewives – Home is the Place
Susan: I'm not good alone. I need a man in my life.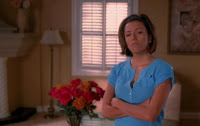 The introduction was great having Bree meet the "in laws." Thankfully Bree seemed to win the war by buying the house. When Edie said, "I don't stay unhappy for long" I wondered if that was simply about the dancing or if she is thinking about ending her relationship. Of course by the end of the episode, after she finds out he was married before, we know that it is the latter. Good for Edie! Leave it to the younger sister to call Preston out in front of Porter's lawyer! I loved it!
Lynette should have known that Preston & Porter were talking, they are close siblings. Although they have really got themselves in trouble if they do not get Preston back home and if they do not keep Dave and Warren away. Did Lynette really tell Preston she was gong to attempt to kill Warren? What a heavy moment between mother and son. I replay that moment over and over in my head, still in disbelief that this scene took place. Then for Preston not to get out of the car…wow.
Moving on, I can understand Carlos quitting his job and then wanting to work at a community shelter for the blind and Gabby wanting him to jump back into the real world again, but Gabby needs to give him a minute to get his mind around seeing again. Although it is extremely entertaining to see how this plays out, I hope that Carlos taking the high end job does not ruin their relationship.
Susan…I don't want Susan to move away, move in with Jackson! Let's see how far that goes. Susan's reaction when she woke up and found out what she thought she did with Lee was hilarious. Thankfully she did not do anything with him, so her conscious is clear. I really enjoyed this episode and I cannot wait for more!
One Tree Hill – Things A Mamma Don't Know
Haley: I have dibs on Godmother!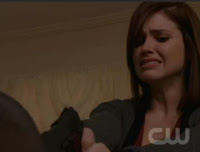 I loved when Peyton told Lucas she was pregnant although I would have rather it not been over the phone. Depending on how many seasons are left of the show, depends on if we get to see a mini Leyton soon! Babies/kids are great but I do not want this show to become a playground full of them.
As happy as I am about Leyton's pregnancy, James Lucas Scott is more than enough. Anyway…The whole Brooke's daughter being held against her will storyline is very much a soap opera and I did not like it. I was so glad to see Barbara A. Woods and Stephen Colleti's names in the opening credits although I have to watch this episode again because now that I think about it, I do not remember seeing Barbara in the episode.
As soon as I saw the kids make their way to Q's grave and then Brooke driving, I thought there would be a car accident. Thankfully there wasn't but I was on edge about the kids being alone. So I can't say whether I like or dislike how those scenes were directed. The way that Haley found out Peyton was pregnant was probably the best moment of the episode. Look how far these girls have come from season 1. Who would have thought? Gosh, I just love it.
Getting to the ending, Brooke grabbing the gun and deciding whether to shoot or not to shoot was the most emotional scene of the episode, thanks to Sophia Bush's superb acting skills. Without her, the scene would have fell flat for me and continued to have that soap opera feel so thank you Sophia Bush for making it amazing. This episode was great overall, I just hope that this show does not continue to fall flat in certain areas as it has been for awhile.
90210 – Hello, Goodbye, Amen
Sean: So, how's school?
Annie: You know, reading, writing, all that fun stuff.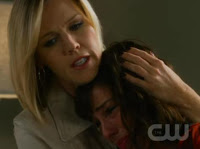 Okay, so I must admit that for awhile now, I have been watching this show more out of habit than desire. I am still debating on whether I should stick with the show at least until the season is over, or just stop watching now. The show is not bad but it's just nothing new. I knew that in the beginning but I stuck in there, because I love the original, I love Lori Loughlin, Silver is so cool, and Adriana's storyline is the only interesting one.
What is Adriana going to do now that she is pregnant and who is the father? So much drama, I love it. This episode was just plain boring though and I just do not see how the show can get any better. I really just do not know what to say about this episode. The Debra Wilson cameo and hearing a Kirk Franklin song in the episode were the most exciting parts of this episode.
Privileged – All About What Lies Beneath
Sage: Using a party to get a guy? It's retro but with a twist.
How cute are Sage and Louis? It is refreshing see Sage so incredibly vulnerable. I love it. Having Megan finally come around and want a relationship with her mother was good to see. I understand the character of Megan, which is why I can tolerate her, although I just want to say that I do not like how incredibly rude and selfish Megan seems at times towards her family. We all have family issues. Stop holding the grudges so we can all get on with our lives you know? Which is why I am so happy that Megan is giving her mother a true chance.
Even if she didn't, as long as she let her mother go in a respectful manner, which is why I am glad she did not leave their relationship in a negative light when it looked like she was ending it. Charlie not realizing how he was affecting his girlfriend by hanging out with Megan all of the time is typical and so are the feelings that his girlfriend felt, so each need to work on seeing where each other is coming from. The wardrobe for this episode was perfect! This episode was every bit of fun and entertaining that I was expecting.
Ugly Betty – Dress for Success
Marc: Oh, I get it, so honesty's the scheme. The old honesty scheme. Yeah, that's a classic.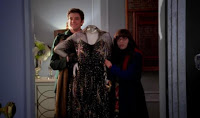 I love Bernadette Peters so that in itself makes this episode one of my favorites this season. The Nikki Blonsky cameo was great too. Nikki is great and I wish that she would get act more because I would love to see more of her. It was incredibly fun to see Betty getting her 40 contacts at the networking party and even more fun to later see Betty and Mark take back the dress for Kiera at Elle.
Betty's struggle to balance family and work has been a growing issue for awhile now and I love the way that it is being portrayed on screen, it is so real. I also really enjoy Wilhelmina's storyline right now as far as her being portrayed as more human like (haha) and wanting a real relationship with not just any man, but a man she truly has feelings for.
I do not know what Daniel is thinking, but I do not seeing his new relationship working but if it does, that will be awesome. 2 cameos and very strong, realistic story lines for the main characters really pushed this episode and I enjoyed every minute of it.
Lipstick Jungle – Chapter 20: La Vie en Pose
Joe: That was fun.
Victory: Were we at the same party?
Why did Nico save the message from Kirby when she heard the girl's voice? I couldn't save a message like that and then was so hesitant over making her relationship at work public? Nico was just annoying in this episode. She needs to decide if she wants Griffin or Kirby. You can't have both. Joe trying to click with Victory's parents was very interesting. You could just sense the awkwardness. I cannot believe that Joe is having money issues though! Wow, I did not expect that. I hope that he can get himself together. Victory's father needs to accept Joe for who he is and support Victory. Everybody has their flaws, but Joe is a great guy.
Wendy is having some serious family issues! Ahhh yikes! How hilarious was it when Maddie walked into the party and grabbed some champagne! Ahh. Girl's got issues thanks to Mommy breaking up the family. Poor Maddie. Overall, this was a decent episode, enjoyable but nothing spectacular. It was not series finale worthy, nor do I believe this was the series finale, which is why I am confused there was a montage at the end. Someone explain that to me?
What I Am Watching:
Sunday
Extreme Makeover: Home Edition (ABC) 8pm
Desperate Housewives (ABC) 9pm
Monday
House (Fox) Premieres January 19th 8pm
Chuck (NBC) Returns February 2nd 8pm
Heroes (NBC) Returns February 2nd 9pm
One Tree Hill (The CW) 9pm
Samantha Who? (ABC) Premieres January 12th 9:30pm
Tuesday
90210 (The CW) 8pm
Privileged (The CW) 9pm
Thursday
Ugly Betty (ABC) 8pm
The Office (NBC) Returns February 1st 9pm
Friday
Terminator:SCC (Fox) Premieres February 13th 8pm
Ghost Whisperer (CBS) 8pm
Lipstick Jungle (NBC) 9pm