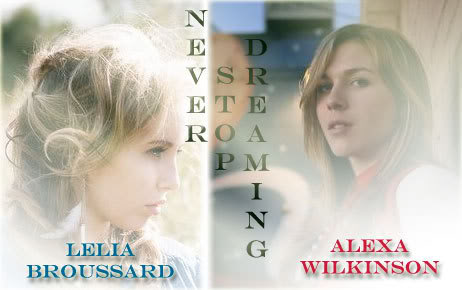 As part of the Never Stop Dreaming Interviews for the month of August 2008, I had the pleasure of talking to two solo singer/songwriters, Lelia Broussard and Alexa Wilkinson.
You may have heard Lelia songs, "Secrets" and "Should Have Known" on Joan of Arcadia (CBS), "Rise" on The Hills (MTV), or even "Smile" on Men In Trees (ABC). You may have heard Alexa's songs, "Just Gone" and "Miles Away" on The Hills (MTV). If you haven't you are in for a treat!
Lelia Broussard
Lelia Broussard hails from Louisiana, hence the title of her debut album, Louisiana Soul which was written and recorded at just 15 years old. Lelia grew up in Philadelphia and has since lived in both New York and Los Angeles to broaden her music career. It's hard to tell but until she picked up the guitar as a young girl, Lelia had no professional interest in songwriting and singing. "It was pretty out of the blue actually," Lelia says, "One day I thought I might like to play guitar and after some hassling, my mom got me a guitar and it never stopped from there." She also plays the piano but admits she needs to learn how to seriously play different instruments. "I need to get on that!"
Her second LP, (lil-ya) has no limits in terms of sound. There is such a variety of soul, pop, jazz, blues, hip hop, and lots more. "The real reason I did the hip hop, besides the fact that I had always wanted to try doing that and really love it was because someone told me it would be an awful idea. So I did it to prove them wrong."
In 2007, Lelia re-released (lil-ya) as Rise. You may have heard the title song, "Rise" on The Hills (MTV). You may have also heard Lelia songs "Secrets" and "Should Have Known" on Joan of Arcadia (CBS) and "Smile" on Men In Trees (ABC). Lelia's DJ friend from Philadelphia helped her meet with the music supervisor for Joan of Arcadia and MTV spotted Lelia at a gig in New York. As for her song appearing on ABC, Lelia says, "I'm actually not too sure how that one happened," but adds, "It's always really cool to hear your music on TV, especially if it's a good spot and they use the music well with the story line." As for her upcoming record The Grass Is Greener, Lelia says, "Right now it's really been about finding the truest representation of me, and I feel like I've done that."
1. How do you think your writing has changed over the years since your first album, Louisiana Soul to now?
I feel like it's really been a huge evolution for me. When I first started writing it was more of a frenetic burst of creative energy spilling out. Everything just came out at once, I didn't think as much about song structure. It was just an innate thing. Which is wonderful, but now I feel a lot more like a writer. I have learned so much about the art of writing a good song. I have also worked with a lot of different people and learned something from everyone. I have really evolved.
2. What have you discovered about the differences in musical culture between Louisiana, Philadelphia New York, and Los Angeles and which suits you best?
Each place I've been has played a huge part in shaping who I am today.
I spent most of my childhood in Louisiana, there is really a cultural richness to southern Louisiana that I've found nowhere else.
Philly was a good place to start out for me. I was able to play gigs and sort of cut my teeth in a place that isn't so overwhelmingly huge as NYC or LA but still was a great town musically.
New York was amazing. The city has a real energy to it and kind of a glow, when you first move there anyhow. There's always something going on…no matter what time it is. I was able to do a lot, and I enjoyed every minute of being there.
I moved to Los Angeles when I was signed by Rondor/Universal publishing. I was really skeptical at first but I've never been involved with such an amazing network of musicians. Everyone is so welcoming. Places like The Hotel Cafe' really nurture that environment. Plus, you really can't beat the beach, the mountains, and this gorgeous weather!
3. What can you tell us about your upcoming LP, The Grass Is Greener?
I can tell you that it's going to be amazing! Seriously though, I am really, really excited for this record. I'm proud of it. I want everyone to hear it.
4. Who would you love to sing a duet with?
Paul Mcartney. Because he's Paul.
5. Where do you see yourself in 10 years?
Still touring, but with a few Grammys in my pocket…and you know…world domination. I don't know it's just a thought.
Lelia Broussard's album, RISE is now available on I-Tunes.
______________________________________________________
Alexa Wilkinson
Alexa Wilkinson first got into music because of a boy. In elementary school, her crush played the trumpet, so she did too. Then Alexa began to have an interest in guitar, so her mother bought her one for her birthday. Not too long after that, Alexa realized that she could sing and today she has released 2 albums and has toured with Vanessa Carlton, Kate Voegele, and Josh Kelley among others. Not bad for 21.
A native of Cherry Hill, NJ, Alexa moved to Utah at 12 years old, but has since lived in both Los Angeles and New York. Her songs, "Just Gone" and "Miles Away" have both appeared on The Hills (MTV). "It really helped establish me as a credible artist" Alexa says.
Singer/songwriter, Josh Kelley helped produce and co-write many songs on Alexa's debut album, Lullaby Appetite (along with Alexa, her friend, Ben Carter, who was her guitarist at the time, and many others in Los Angeles.) Touring with Josh was Alexa's first tour ever. She had so many good things to say about Josh Kelley.
"Josh is a very magnetic human being, he's very supportive of everyone he brings on the road. He really made me feel at home. He really kind of set the standard of how touring in my opinion should be."
Another unforgettable moment in Alexa's life was recently touring with Vanessa Carlton, which Alexa says was very surreal. Alexa shared a bus with Vanessa and ended up playing trumpet in one of her songs. Talk about a huge honor. "It was really great getting to know her" says Alexa, "It was weird because you listen to people and become a fan and you rarely end up finding yourself working with these people."
One thing you many not already know about Alexa is that she is also talented in graphic design, which Alexa calls her creative calling, other than music of course. Alexa has designed t-shirts for Ingrid Michaelson among other artists.
Back to the music, take a look at what Alexa has to say:
1. What does Lullaby Appetite mean?
It is kind of a very crude way of saying you need someone, you need a song to put you to sleep. It is like having an appetite for anything but an over exaggeration of having a craving for something bigger.
2. Which song on Lullaby Appetite best represents you?
I would have to say "Of Graves" because it was the song where I started to fall into a niche musically and so I carried that over to my current album.
3. What would you say are the differences between your new album Lions and Lullaby Appetite?
Lullaby Appetite was a public piece of a bunch of different songs that were produced and written at different times in my life. We needed something to put together and tour with and it seemed to be at the right moment.
The reason I recorded Lions so quickly after Lullaby Appetite was because I wanted the same production sell and I wanted it to be a little more conceptual. I spent months writing Lions, instead of the whole purpose being just one full length album.
They are two completely different albums but I love them both.
4. Do you find yourself writing more songs or more poetry?
I write more songs than more poetry now. I haven't written poetry in a long time because I think once you start writing songs the poetic nature of it gets more deluded and you try and confine melody and it's more about the song then the element.
5. What is the best part about touring the country?
The coolest part about touring is that you really get a good handle on the world and how this country is shaped and what people make up. You find yourself meeting very interesting people. I gained perspective on how different parts of the country are so vastly different from everywhere else. It's really cool finding where you fall into place in this country.
Alexa's debut album, Lullaby Appetite is available at select FYE and Sam Goody stores, amongst some independent stores, and Barnes and Nobles as well as I-Tunes.
Alexa's new album, Lions is available on I-Tunes now.