Summer TV is here and in full swing! My Summer '17 TV watch list is here in case you missed it. I'm so pumped for Big Brother 19 (stay tuned on my thoughts so far after the first HoH, POV, and eviction). In addition, I am especially loving Dark Matter, Fear the Walking Dead, The Mist, & Playing House. What summer TV are you absolutely devouring right about now?
As for books, I've just gotten out of my ALA coma so stay tuned for my coverage on that experience. I had so much fun in Chicago with my writing critique group and I can't wait to tell you all about it! In the meantime, check out my BEA recap and here's a photo of my CP group at our CP, Axie Oh's ALA signing for her debut YA sci-fi novel, Rebel Seoul.
E-book/Book/ARC (Advanced Review Copy)/Audiobook Haul
* BEA 2017 Book Haul
* American Street Ibi Zoboi
* Rebel Seoul by Axie Oh (ARC)
* Piecing Me Together by Renee Watson
* Bad Blood by Demetria Lunetta
* Want by Cindy Pon
* I Believe in A Thing Called Love by Maurene Goo
* Now I Rise by Kiersten White
* Monstress Volume One: Awakening by Marjorie Lu & Sana Takeda
TV & Movie Reviews
* TV: Face Off Episode 12.01 "Pack Leaders" & Season 11 Recap
* Blu-ray: Loving
June Notes
* I've started watching k-dramas and I don't know how it can get any better with the first k-drama that I decided to watch, W: Two Worlds. It is AMAZING. I highly recommend catching it on Hulu! I fangirl here.
* June was National Audiobook Month and I put the spotlight on Duplicity by N.K. Traver. If you've yet to listen to an audiobook this summer, make sure you check one out!
* My latest Loot Crate haul is below. The theme was Alter Ego and inside was a Spider-Man Webslinger Q-Fig Variant, Transformers G1 Optimus Prime T-Shirt, Hulk Bowl (my favorite from the haul), DC Comics Mini-Poster Book, and Power Rangers Loot Crate Pin.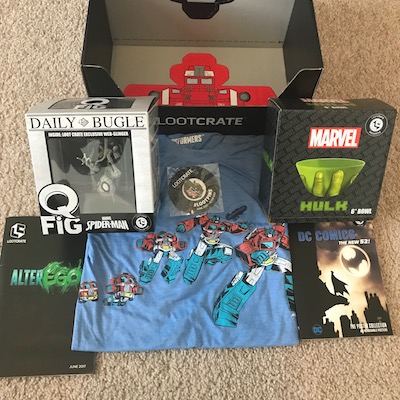 Books I Read
If you'd like to keep track of my reading progress as it happens and reviews as they are posted, feel free to follow me on Goodreads!
Audiobooks That I Listened To:
1. Duplicity by N.K. Traver
ARCs That I Read:
1. Spinning by Tillie Walden
2. Pashmina by Nidhi Chanani
3. Dear Martin by Nic Stone
My favorite read this month: Spinning by Tillie Walden
Movies & Documentaries I Watched
Watched in June 2017
The Discovery (Netflix Streaming)
What the Health (Netflix Streaming)
My favorite movies/documentaries this month: I only watched one movie and one documentary this month and both were solid, neither as spectacular as I'd hoped. So. N/A on this answer.
Until the end of this month, happy reading and viewing!