I've adjusted Jamie's End of the Year Book Survey to TV and Film since I also blog about those and want to cover all of my bases. Check out my Movie Survey (coming soon) and my TV Survey below!
For the full list of TV shows that I am currently watching, click here.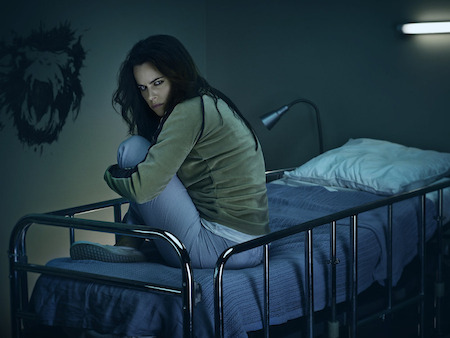 1. Best TV Shows I Watched In 2015?
*My goal: List five or less shows per category.
New Drama: 12 Monkeys (Syfy), Unreal (Lifetime), Mr. Robot (USA), Humans (AMC), Quantico (ABC)
New Comedy:  Younger (TV Land), Grandfathered (FOX), Master of None (Netflix)
Returning Drama: Graceland, Orange is the New Black, The Walking Dead, Scorpion, The 100 
Returning Comedy: Playing House (USA),  Brooklyn Nine-Nine (FOX), Fresh Off the Boat (ABC), Blackish (ABC), The Mindy Project (FOX/HULU)
New Reality: Twinning (VH1)
Returning Reality: Big Brother (CBS), Face Off (Syfy), Troy: Street Magic (Syfy), Million Dollar Listing: LA (Bravo), Hollywood Game Night (NBC)
Mini Series: Heroes Reborn (NBC)
TV Special: A Path Appears (PBS)
2. New TV Show I Was Excited About & Thought I Was Going To Love More But Didn't?
Dramas: Stitchers (ABC Family), Killjoys (Syfy), The Messengers (The CW), Blindspot (NBC), Agent Carter (ABC)
Though it had a rocky start, I actually really enjoyed The Messengers (The CW) up until the final few episodes. This show had so much potential to be so much more. A shame. Also, I must mention that the lack of diversity on Agent Carter really rubbed me the wrong way but they say next season will be different so maybe I'll catch up in time to watch it.
3. Most Surprising (in a good way) TV Shows I Watched in 2015?
Drama: Zoo (CBS)
Comedy: Life in Pieces (CBS)
I didn't expect to like Zoo (CBS) simply because the premise alone is absolutely ridiculous. But I found myself watching this show and was really into it for the first handful of episodes. Job well done, writers! You got me! I still have zero interest in reading the book it was adapted from but at least the show won me over for a moment.
I was hesitant about watching Life in Pieces (CBS) because it felt like a comedy version of Parenthood (NBC) and while it basically is, I have gotten over my resentment of Parenthood being cancelled and can enjoy Life in Pieces for the show that it is on its own.
4. TV Shows I "Pushed" The Most People To Watch (And They Did) In 2015?
Drama: How to Get Away With Murder (ABC)
Unreal (Lifetime)
12 Monkeys (Syfy)
Mr. Robot (USA)
Comedy: Playing House (USA), Brooklyn Nine-Nine (Fox)
5. Best Season Finales of 2015? Best Series Finales of 2015?
Season Finales: How to Get Away With Murder (ABC) Season 1 Finale
Series Finale: Parenthood (NBC), Glee (FOX), Cougar Town (ABC)
The season finales this year were either solid or straight up disappointing, nothing really extraordinary except for HTGAWM in my eyes. As for the series finales…wow. So many amazing shows came to an end this year and the three shows above I've watched and loved since the very beginning so it was very hard to say goodbye to them. Penny can!
6. Favorite TV Shows I Binged in 2015?
Drama: Finding Carter (MTV) – By recommendation of my cousin, Eboni. Thanks, girl!
Comedy: Portlandia (IFC), Master of None (Netflix), Getting On (HBO)
Dramedy: Jane the Virgin (The CW)
7. Best TV Series From a Genre Out of My Comfort Zone?
Drama: American Horror Story (FX)
If you're a longtime reader of the blog, you know that I watched and loved the first "season" of American Horror Story when it originally aired. Funny enough, that's the only version I've watched in its entirety because… I'm not a fan of horror.
I love witches. I love asylum stories. I love freak shows and hotel stories (*cough* go watch Hotel Babylon if you want a fun hotel show *cough*). So I had reason to come back to the show every single time it re-invented itself but those elements just weren't enough to keep me going because the show is all of those things but at its core, its horror which I just am not into.
That said, this show is so good at what it sets itself out to be. So if you like horror and all things weird, you must check out this show! Me on the other hand, I'm going to pass as its great but has gotten even more out there since it began and I just can't hang.
8. Most Thrilling TV Series of the Year?
12 Monkeys (Syfy), Mr. Robot (USA), Scandal (ABC), Wayward Pines (FOX), Fear the Walking Dead (AMC)
If you're not watching Wayward Pines, go ahead and make it your mission to do so at the beginning of 2016, before season two begins! You are totally missing out!
9. New TV Show I Watched That I Am Most Likely To Re-Watch?
Mr. Robot (USA) because after that twist, I need to re-watch the first season all over again to incorporate this new perspective.
Also, if there's a 12 Monkeys (Syfy) marathon before the next season, I'm definitely watching that!
10. Favorite Key Art for a TV Show I Watched in 2015?
This choice is pretty obvious. I mean what else would I pick?! My favorite TV show came back from the dead this year and this image marking its return was epic!
11. Most Memorable Characters of 2015?
– Rachel on Unreal (Lifetime) played by Shiri Appleby. If I could describe her in one word, it would be troubled. And I love watching every minute of that trouble within her, surrounding her, etc… This show is so unapologetic in how genuinely flawed and complex people really are so getting to see Rachel is like a weight off our shoulders…it's a "Yes! Finally," moment in a way. This character is long overdue and much under-appreciated.
– Warren on Z Nation (Syfy) played by Kellita Smith. If I could describe her in one word, it would be fearless. No matter what's presented to her, she gets the job done. I love that we finally got to see what happened to everyone on the first day of the zombie outbreak (episode 2.14 "Day One") and we got to see just how quickly Warren transitioned into the Warren we know today. Wow. She never ceases to amaze me.
– Anita on Humans (AMC) played by Gemma Chan. If I could describe her in one word, it would probably be clever. This might be a cop out since she's an android but I still think it's the best word to describe her and what intrigued me and entertained me the most about her.
– Odelle on American Odyssey (NBC) played by Anna Friel. If I could describe her in one word, it would be resourceful. She's a soldier, so of course this is a natural extension of her at this point but watching her use her intelligence and training as she fights to stay alive in a foreign country with numerous people after her and numerous people at home trying to keep her dead while she tries to get back to her family…what an exhilarating journey it is to watch!
– Paul Briggs played by Daniel Sunjata, Mike played by Aaron Tveit, Charlie played by Vanessa Ferlito, Dale played by Brandon Jay McLaren, Johnny played by Manny Montana, Paige played by Serinda Swan – Graceland (USA)
12. Most Beautifully Written Episode of 2015?
It's a tie between two episodes of Graceland.
Graceland Episode 3.04 "Aha" – Not only was this written wonderfully, the aesthetics for this episode were unlike any other for the show, making this a standout episode within the first five minutes of viewing. This episode is easily the best episode of Graceland in the entire series and no, do not watch this own its own if you're thinking about it. The payoff is great on its own but it's even more rewarding when you have a relationship with these characters so catch up on the past three seasons to get to this episode if you're behind or haven't begun watching yet. It is SO worth it.
Graceland Episode 3.07 "Bon Voyage" – Paige telling Dale and Johnny she needed one of them to give her a hickey and Dale saying he'd do it "for the case" and Johnny quickly adding how weird this was and then Charlie walking into the house saying it gets weirder every time she comes back here….priceless. The balance of comedy and drama on this show is PERFECTION.
I am so sad that Graceland was cancelled, it was one of my favorite summer shows and this season was amazing. Bravo to everyone involved in making this show. You should be very proud.
13. Most Thought-Provoking/Impactful Shows of 2015?
Drama: Mr. Robot (USA), American Crime (ABC)
Reality: Becoming Us (ABC Family)
Comedy: Master of None (Netflix), Fresh Off the Boat (ABC)
I'm so happy with the acclaim that Mr. Robot is getting. It so very much deserved. This show takes the cake when it comes to thought provoking and intrigue. It's so smart. It's paced perfectly. It's beautiful. Everything about this show is perfection. And that twist? Wow. Did not see that coming. Then there's American Crime. This is not an easy show to watch but it's not supposed to be easy. It's supposed to stir up something inside of you and make you think about the world, how we treat each other, how we act ourselves, and what we can do to be better.
Becoming Us was a truly fascinating show following a boyfriend and girlfriend who both of have fathers transitioning from male to female. Very eye-opening.
Master of None and Fresh Off the Boat are two brilliant and hysterical comedies that are long overdue so it's just so wonderful to have shows like these where mainstream audiences can see our truth. It's about time.
14. TV Show I Can't Believe I Waited Until 2015 To Finally Watch?
Portlandia (IFC)
I knew that I would either love this show or hate it and I didn't start watching until now because I was so afraid that it would be the latter. I am very attached to shows so while I didn't want to be disappointed, I also hate seeing a show that I tried to love, thrive in its greatness and me sitting there thinking, "Why can't I get into that show?" So I was quite concerned. But I'm so glad that I finally took the plunge because it's better than any expectations I could have ever had. If you like quirky shows, this is for you. It's on Netflix so go on and binge it before the new season begins.
15. Favorite Quote From a TV Show I Watched in 2015?
There are so many great lines from every show that I watched this past season but I want to point your attention to a show that I only took a chance on because of the names behind it (both on and off screen). It's exchanges like the one below that make me laugh so hard and think, "That's why I'm watching this show. This show is absolutely hysterical and I'm totally on board with all of its ridiculousness." Here we go:
"Chanel No. 2, if this is really you, use your magical dead powers to tell me how many tampons I have in my purse." – Hester
*Ouija board moves*
"Oh my God! She is right! She is right!" – Hester
"Why do you have nine tampons? How big is your cooch?" – Chanel
Scream Queens – Episode 107 "Beware of Young Girls"
16. TV Shows I Watched In 2015 With the Shortest & Longest Episode Span (In Its Entirety)?
Fear the Walking Dead (AMC) – 1 Season, 6 Episodes and counting (season 2 coming next summer)
Grey's Anatomy (ABC) – 12 Seasons, 253 Episodes and counting (season 12 currently on winter hiatus)
17. TV Show That Shocked Me The Most? (Because of a plot twist, character death, etc.)
12 Monkeys (Syfy) – Must Watch TV, People!!!
Mr. Robot (USA) – Never saw it coming.
How to Get Away With Murder (ABC) – My guesses were all wrong. And I loved it!
Notable Mentions: The 100 (The CW) and The Vampire Diaries (The CW)
18. OTP OF THE YEAR (you will go down with this ship!)
(OTP = one true pairing)
Charlie & Briggs on Graceland (USA) and yeah, I did go down with this ship because the show got cancelled. 🙁
19. Favorite Non-Romantic Relationship Of The Year?
Just about every single new or expanded upon relationship on Heroes Reborn (NBC) was dynamite!
20. Best TV Show I Watched In 2015 That I Watched Based SOLELY On A Recommendation From Somebody:
The 4400 on Netflix at the recommendation of my Aunt Teri, Uncle Mark, and Uncle David. It's a short lived show (5 seasons, 5-13 episodes per season) that you can easily binge so if you're looking for a good sci-fi fantasy show to take a chance on, try this one out. I think it's time well spent.
21. Best Worldbuilding/Most Vivid Setting?
Humans (AMC) – A world full of androids? Easily my kind of show and thankfully it delivers everything that I was hoping for on the world building front.
Dark Matter (Syfy) – Every time I think, "I wonder how this space opera will be different," Syfy goes and reminds me that a sentence like that makes zero sense.
12 Monkeys (Syfy) – Now this is how you correctly adapt a movie into a TV series and make it your own at the same time. This is how you nail it!
22. TV Show That Put A Smile On My Face/Was The Most Fun To Watch?
Dramas: Hart of Dixie (The CW), Z Nation (Syfy), Dark Matter (Syfy), Scorpion (CBS), Heroes Reborn (NBC)
Comedies: Cougar Town (ABC), Veep (HBO), Fresh Off the Boat (ABC), Brooklyn Nine-Nine (FOX), Playing House (USA)
Fresh Off the Boat Episode 206 "Good Morning Orlando" is a standout so far this season. Brooklyn Nine-Nine Episodes 306 "Into the Woods" and 308 "Ava" are also standouts. But really just watch every episodes of all of the shows above because you will have yourself a grand ol' time no matter what you choose.
23. TV Show That Made Me Cry Or Nearly Cry in 2015?
Parenthood (NBC). This show is probably my favorite family drama ever. That's a tall order but I'm going to just put that out there because I really think it's true. If you missed it when it was on the air, find it on Netflix, Hulu, Amazon, iTunes, whatever your avenue. Find it, watch it. You will never be the same.
24. Hidden Gem Of The Year?
Red Band Society (Fox), a freshman drama that began last fall was cancelled this past January since the ratings were basically non-existent. I haven't forgotten about you, Red Band Society! You were great while it lasted.
If we're talking about a show that began in 2015 though, I'd go with 12 Monkeys (Syfy). You have no idea what you're missing. Please watch so I have someone to talk to about this show!
25. Most Unique TV Show I Watched In 2015?
Geeks Who Drink (Syfy) was a fun drinking game show to have on while doing random things on my laptop. I'm not sure if it's coming back next year but I enjoyed it!
26. Favorite Award Show in 2015?
The Golden Globes 2015 were fantastic. Both fun to watch and lots of excitement for the winners. Great hosting by Tina and Amy. Great wins! A standout win was Gina Rodriguez (Jane the Virgin)! Major congrats!
Notable Mentions:
The Screen Actors Guild Awards was also very fun to watch and had very notable wins. Viola Davis and Uzo Aduba rocked it on stage when they won! A great start to the year and look at what was expected for the Globes and Emmys.
Speaking of the Emmys, while this year was pretty boring, I was over the moon when it came to the wins of Viola Davis, Uzo Aduba, and the finally recognized Regina King! Such victories for black women in TV this year! I couldn't be more proud or inspired!
Blogging
1. Favorite TV Blog Post I Read in 2015?
I always love the interviews Amrie does over at My Take On TV. A standout interview this year that I read was one she conducted with Niecy Nash (Scream Queens, Getting On). Well worth the read!
2. Favorite TV Review That I Wrote in 2015?
Heroes Reborn (NBC) – Episode 107 "Chapter Seven: June 13th Part One"
3. Favorite TV Related Posts I Wrote in 2015?
What I Watched When I Joined Netflix + A Look at My Queue Over the Years
4. Favorite TV Related Event That I Participated In (signings, festivals, virtual events, etc.) This Year?
Meeting Rashida Jones at New York Comic Con was a huge highlight for me!
5. Best TV Blogging Moment of 2015?
Interviewing Masi Oka (Heroes Reborn) was the ultimate moment for me! One of my favorite interviewing experiences ever.
6. Most Popular TV Related Post This Year On My Blog (whether it be by comments or views)?
20 Shows to Binge Watch on Netflix Right Now
7. Post I Wished Got A Little More Love?
It's a tie between When I Didn't Have a DVR, I Watched… and A List of Black Screenwriters on Twitter
8. Best TV-ish Discovery (TV related sites, stores, etc.)?
Not limited to the TV world but because it's a really awesome short-term viewing experience, I'm going to go with Periscope. Periscope has been great for getting behind the scenes footage live from certain TV actors and writers including but not limited to Jesse Tyler Ferguson, Eric Stonestreet, Yvette Nicole Brown, and writing sister team Shawna & Julie Benson (The 100). There are many more but these three come to mind since they Periscope the most of the people that I watch. Rachel Reilly also comes to mind but nothing Big Brother related. Hopefully some BB alumni will be Periscoping once the next season begins. I'm sure Jordan and Jeff will be! Excited to see more actors use Periscope in the new year!
Looking Ahead
1. TV Show I Didn't Get To In 2015 But I Will Attempt To Make a Priority in 2016?
New Drama: Sense8 (Netflix)
New Comedy: Ballers (HBO)
Returning Drama: Continuum (Syfy) The Final Season
Returning Comedy: Shameless (Showtime) Seasons 4-5
New Reality: Todrick (MTV) which I'll watch if it gets picked up for season two. I meant to watch and support #TeamInternet but I just started watching Finding Carter on MTV (started watching on Hulu though) this year and I haven't watched MTV in years so it's going to take a minute for me to adjust to watching MTV again. I still have no idea what channel it's on.
Returning Reality: I dropped the ball on watching the most recent season of Impractical Jokers (truTV). Must watch at some point! It's a go to if you ever need a good laugh!
2. TV Show I Am Most Anticipating in 2016?
New Drama: The Magicians (Syfy), Colony (USA)
New Comedy: Bordertown (Fox)
Returning Drama: 12 Monkeys (Syfy), Fear the Walking Dead (AMC)
Returning Comedy: Galavant (ABC)
New Reality: Recovery Road (Freeform)
Returning Reality: Big Brother (CBS)
3. One Thing I Hope To Accomplish or Do In My TV Life In 2016?
Ever since I got a blurb on Fox On Demand, wanting to get a blurb on TV in general hasn't seemed so far fetched. That would be a dream come true! Only time will tell.
4. 2016 TV Premiere I've Already Watched & Recommend To Everyone?
The screener for the premiere of the next season of Face Off (Syfy) is so much fun and the preview of The Magicians (Syfy) was absolutely fantastic! Now I need to read the book asap before the first season really kicks it into high gear!
What are your TV standouts of the year?