I can't believe I haven't seen a single Broadway show all year! If it kills me, I will see at least half of these this Broadway season….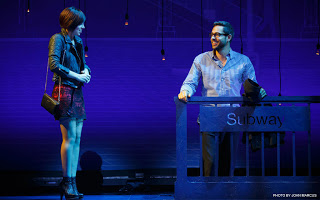 Photo Credit: Joan Marcus
1. Annie
The truth is, I will never get tired of Annie. I've seen it more times than I can count on every stage except the Broadway stage. I'd love to see this on Broadway. I'd love it.
2. Once
I've wanted to see this since it came to Broadway. Even had two separate occasions planned to go and they fell through. Hopefully, I'll be able to see it before Arthur Darvill (Doctor Who) leaves!
3. First Date
Zachary Levi (Chuck, Tangled) is in this and I'm a fan so this is automatically on my list. Plus, In the Heights fans, Krysta Rodriguez!
4. Aladdin
WHAT. This is my favorite Disney film. I can't even begin to explain how excited I am for this to come to Broadway. My heart will be so broken if this production doesn't blow me away. Please don't gear it towards a younger audience like The Little Mermaid did when it came to Broadway. I beg of you! Please!
5. Ever After
Speaking of The Little Mermaid on Broadway, Sierra Boggess was in the workshop for this production of Ever After, based on the 1998 film (which is based on the book that I've heard is way better, naturally). I'm hoping Boggess stays with this production and hoping this actually makes it to Broadway. The workshop was delayed before, hoping there won't be too many delays…that's never a good sign. I'd definitely rather see it not make it to Broadway than come and have it not work at all. So…only time will tell.
Photo Credit: Big Fish
6. Big Fish
Big Fish is one of my favorite movies so I'm very interested in seeing how it has been adapted for the stage. Very curious indeed.
7. Houdini
I really don't think stunt casting is necessary for a Broadway show about Houdini but since it is Hugh Jackman…I'm not complaining!
8. If/Then
Idina Menzel and Anthony Rapp reuniting on the Broadway stage…must see.
9. The Glass Menagerie
This story, this cast and crew…what's not to love? If this isn't on your list of shows to see, change that and tell me how it is after you've seen it!
10. Macbeth
This is one of my favorite Shakespeare plays, so it goes without saying that this is on my radar.
Notable Mentions:
700 Sundays (Starring Billy Crystal, Opening November 13, 2013) and Hedwig and the Angry Inch (Starring Neil Patrick Harris, Opening Spring 2014)
What Broadway shows are on your radar this season?